Segovia rises out of the parched Spanish plains like an island out of the sea. A sunset view from the Parador on the hill opposite reveals an almost mythical city basking in honeyed oranges and reds. An arching Roman aqueduct, a Gothic cathedral, an Alcázar perched on top of a craggy cliff and an atmospheric walled city centre with tight winding streets and great gazpacho.
But let's talk practicalities for a moment.
Otherwise I'm starting to sound like a tourist office brochure. Trouble is, that I really did find Segovia as enchanting as I was supposed to (for those who doubt my credentials in the criticism department, see what I thought about these tourist traps.)
Highlights of a Cheap Weekend Break in Segovia
Roman Aqueduct in Segovia
Free to marvel at from both the top and bottom, this granite piece of engineering sits right in the centre of the modern bustling town. Segovia's aqueduct has stood 30m tall for around 2000 years.
Catedral de Segovia
This massive space is filled with traditional statues of Christ being crucified, with slashes across his body and blood dripping to his feet. Then, in complete contrast, a passageway leads into a sun-filled cloistered space lined with white and pink rosebushes.
Alcázar de Segovia
Previously a palace and a prison, today the Alcázar showcases suits of armour, paintings, sumptuous ceilings and views out across the sun-scorched plains. Rumour has it that Columbus received funding for his 'big trip' within these cool and stony walls.
The Jewish Quarter
Within the city walls, restaurants bars and cafes take a chilled approach to life. You can find colourful leather goods and zingy gazpacho here, as well as plenty of chairs in the shade, places to gather your thoughts or perhaps snooze like the dogs that sleep in the streets…
Getting around Segovia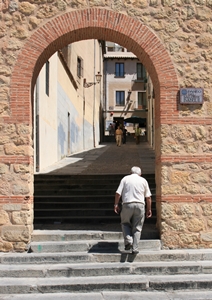 Everything within the city centre can be reached by foot, although the temperatures can be incredibly hot. Take some water with you, stay in the shade and take it slowly.
Getting to Segovia through Spain's rusty fields is a real pleasure, but you don't really need the car once you get here. Most people visit Segovia as a day trip from Madrid – although if you're only here for the weekend then I'd suggest making your whole weekend break about Segovia. The best views are at sunset and dawn and the centre is much more atmospheric once the day trippers have left. You can reach Segovia by bus or train from Madrid.
Enjoy your cheap weekend break in Segovia!