The Polish city of Krakow has plenty of things to see and do. A weekend here lets you soak up history, appreciate beauty and drink the best hot chocolate in the world.
Things to Do in Krakow
Rynek Głowny – Krakow's Central Square
As Europe's largest medieval square, Rynek Głowny is an atmospheric place to start your trip and get your bearings. Try Obwarzanki, a doughy pretzel snack sold across Krakow, and make sure you track down the Wedel shop on the north of the square. It has the air of an aristocratic teahouse but serves the best hot chocolate, with the strongest flavour.
The Cloth Market
Krakow's Cloth Market has been trading throughout the city's tumultuous history for over 600 years. Today, the covered hall specialises in jewellery, wooden crafts and souvenirs.
Wawel Castle
Perched on a hilltop and complete with its legend about a virgin-eating dragon, Wawel castle has a large collection of furniture, portraits and tapestries.
Jagiellonian University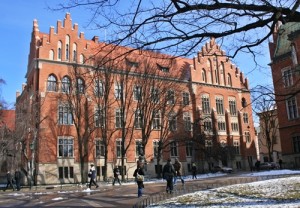 A stroll through the park that surrounds the University is a nice way to get a feel for Krakow's centuries of study and learning. Former students include Copernicus, the first man to suggest that the Earth revolves around the sun.
Kazimierz
Kazimierz was the home of a thriving Jewish community until World War II, when the Nazis drove Jews from their homes. Today it's undergoing something of a renaissance, with cafés, music and bars. Visit the modern Galicia Jewish Museum to understand more about its terrible past.
Podgórze
Across the Wisła river, this district was the site of the Jewish ghetto featured in Schindler's List. Schindler's factory remains, as do fragments of the ghetto walls. The small Museum of National Remembrance gives a sobering and poignant portrait of the atrocities committed here.
Concerts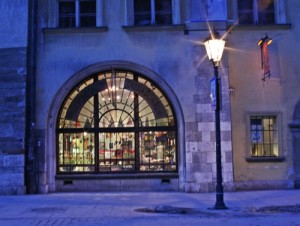 Several concerts take place within walking distance of Rynek Głowny, including classical Chopin, traditional Jewish music and Polish folk music in costume. Find up to date listings from any one of the tourist offices in the streets north of Rynek Głowny.
Day Trips
Krakow has plenty of posters for the Wieliczka Salt Mines and the Auschwitz death camps.
I would recommend visiting both, but it is difficult to fit them into a weekend trip.
A return visit to the Salt Mines takes between four and five hours, while a visit to Auschwitz & Birkenau takes around six hours. Auschwitz can be a disturbing, distressing experience and it's not wise to tack it onto a trip without thinking. To read more about my feelings on the subject, read A Cold and Lonely Path: Into Auschwitz.
Getting Around
With spirit and enthusiasm, you can walk between everything mentioned here (except for the out of town excursions.) If weariness sets in, use one of the many trams that shuttle around the city.
Buy tickets from the machines next to the tram stops . Tickets are cheap (around 2 – 3 zloty) and need to be time-stamped when you board the tram (watch the locals for how to do this.) Tram maps are (fairly) easy to decipher and are printed on the main tram stops.
Watch out when getting off a tram, however. Many don't have platforms and thrust you straight out onto the road…
There are plenty of things to do in Krakow – Enjoy!